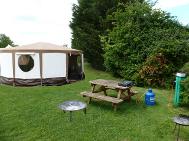 A little known fact...
The term Yurt has become an interchangable term for a wooden framed structure in Europe; orignally Mongolian structures were know as a Ger meaning 'Home' Yurts have evolved through generations since the times of Genghis Khan. In fact there is evidence that yurts were in use 600BC.
Traditional Mongolian Yurts have walls made of a wooden lattice framework. The lattice is just the beginning of the ingenious design. Each yurt has a door-frame, roof poles and a central roof crown all of which interlink. As the linings and exterior canvas weigh on the crown the roof poles act as spokes spreading the pressure of the structure out to many points along the latice walls and this in turn gives the yurt rigidity and stability.
The crown is steeped in tradition. While other parts of a Yurt would be replaced over time, the crown would be passed down from father to son as an inheritance when a father died. Indeed it is said that a family's pedigree could be measured by the amount of smoke marks on the crown from the families central fire.
As Yurts are the traditional accomodation of herders they are designed to be quickly dismantled, moved and rebuilt in another place as the herder followed his flock in order to protect and care for them. It could take as little as an hour for herders to dismantle a traditional Yurt then be on his way to the next grazing spot.
As well as the crown the whole Yurt is steeped in tradition with families building a new Yurt for newly weds to mark their passage into married life together.
A Yurt may look small from outside, but do not be deceived – our Yurts can easily accommodate four people sleeping and all the essentials including TV/DVD, fridge /cooler etc.
A Yurt is traditionally heated using a fire or small wood stove; whilst we supply a fire pit or chiminea outside for you to burn wood and maybe toast marshmallows on; you will be pleased to know that here at Dorset Country Holidays Glamping our yurts are supplied with electric, so it's much easier just to turn on the heater!
Click here to visit our yurt glamping page for glamping prices and facilities.
Text copyright Dorset Country Holidays and Events
Copyright Dorset Country Holidays and Events Glamping