Bell Tent Glamping in Dorset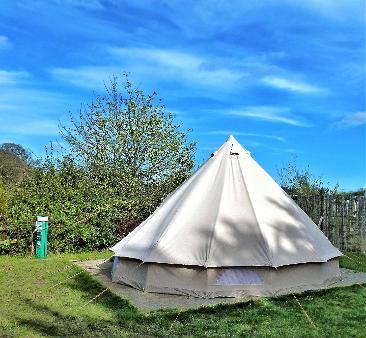 Our Bell tents provide true glamping, with the glamour of the exotic or luxurious mixed with the fun of sleeping under canvas. Glamping Bell tents are set-up ready for you when you arrive and furnished ready for use, so you can just turn up and relax. Each glamping bell tent comes with:
A double bed

2 single futon sofa beds

Trunk for clothes storage



Electric lighting

Electric sockets

Electric cooler box

Food storage box

Fire pit

Hamper with cutlery, crockery & drinking glasses

Gas stove with hob, grill, saucepan & whistle kettle

Picnic bench
Bottled water & cereal basket on arrival**
Some iPads & iPhones will not submit this form to us. Please use another device or contact us directly.

Bell Tent Glamping Enquiry
Some iPads & iPhones will not submit this form to us. Please use another device or contact us directly.
All of our Bell tents have the same equipment, to add a bit more fun they each have themes.
Step into a world of Bedouin inspired luxury, glamping with our Exotic Bell tent. Embrace a more relaxed style of living as you recline on day beds and look up at Moroccan lamps, maybe even sip some mint tea! All the opulence of the Bedouin style is here for you, but with electric lights and power sockets you still have somewhere to charge your mobile phone! The Exotic bell tent even has two single day beds making it perfect for couples and family glamping holidays alike.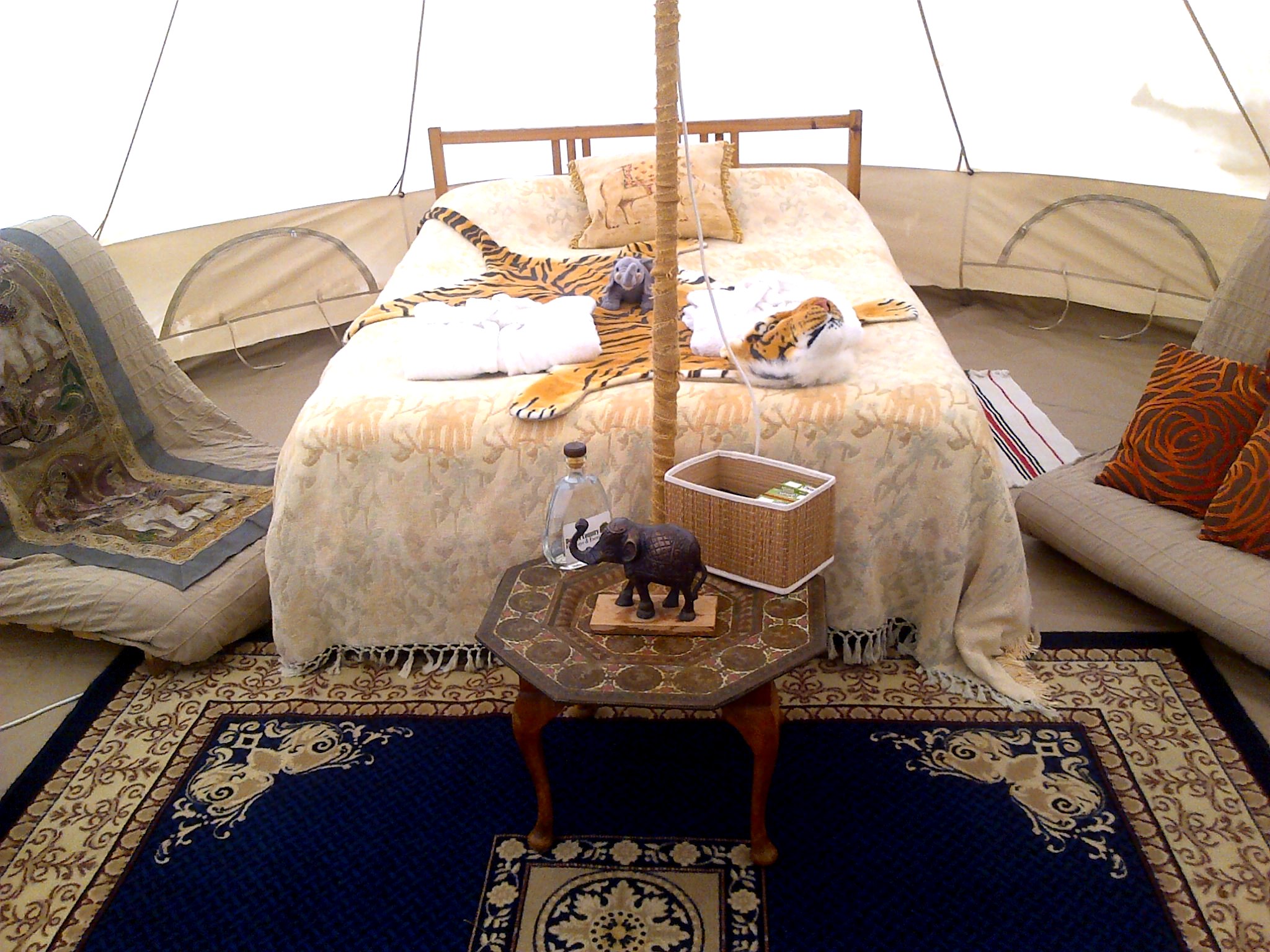 Our 'Explorer tent' embraces a time when the brave ventured into uncharted lands but took the comforts of home with them. The Explorer bell tent is furnished with a double bed, traveller's trunk, sofa bed, electric lights and sockets & cooler. All designed for you to have luxury whilst exploring the rural Dorset countryside.
Bell tent glamping from £16.88 pp a night based on 4 sharing for two nights or more during midweek dates in the low season.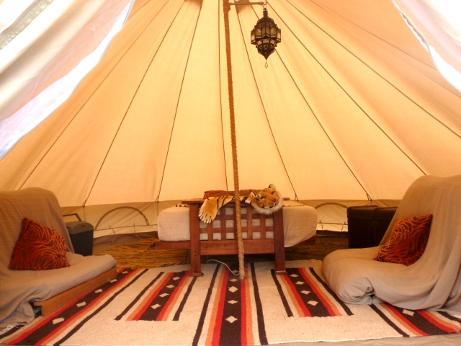 Glamping Bell Tent Prices 2018
To offer our guests the best value our Bell tents are priced per unit per night. This means you can reduce the per person nightly rate by having full occupancy.

For your convenience we have converted the fixed nightly rate into a Per Person Per Night rate:
2 nights or more from £16.88pppn*
Bell tents are available for multiple night stays or single nights, relevant fees apply. Please ask for more details regarding single night rates.
Do we need to bring our own bedding?
We pride ourselves on providing cost-effective luxury glamping holidays, to this end our guests are given an option on bedding. You are welcome to bring your own, or if you'd like us to provide duvets, pillows and sheets for your convenience, bedding packs can be supplied for £17.50 for a double and £12.50 for a single.
In 2018 all of our glamping accommodation booked directly through us also includes a complimentary cereal basket and bottled water on arrival.

Our Bell Tent holidays are perfect for a family of 4.
Larger Family?
Our Family Glamping Tent sleeps up to 6 people.
*Price based on four people sharing for two nights or more excludes Bank Holidays, National Holidays & peak season. See glamping prices page for more details. **For direct bookings made with DCHE
© 2006 - 2018 | Dorset Country Holidays & Events Glamping