Shepherd's huts date back to a time before mechanised farming when all the work was done by hand or animals in the times of Thomas Hardy. Shepherd huts were a common site in the fields of England and especially here in Dorset where the fields needed more attention. It's therefore very appropriate to have a shepherd's hut Glamping break surround by the fields that they were use to work on.

To get nutrients into the soil before planting crops farmers used to let sheep eat the grass (graze) in the fields
Once the grass had been grazed, and flock of sheep would be moved on to new pasture (you probably know the phrase 'moving on to pastures new') and leave behind manure that would be ploughed in ready for a crop. A the shepherd had to had to be with the sheep 24/7 and move with them so a mobile house was used; and the Shepherd's Hut came into being.

A shepherd's hut was the shepherd's whole house and workshop rolled into one. There was no formal Shepherd hut design and originally shepherd huts were built as working 'buildings' so each was purely functional. The traditional shepherd huts had no luxuries like the ones offered at Dorset Country Holidays. An original shepherd hut would have had a stove to provide warmth and cooking facilities and a window on each side to allow the shepherd a view of his flock. We have stuck true to this original design in our luxury units at Dorset Country Holidays, but don't worry your glamping shepherd hut has full electricity, cooler/fridge and even a TV/DVD. We've also kept with the traditional stable door, and while a shepherd would have kept the top of the door open in his shepherd's hut so he could hear his flock, you can just look at the beautiful view can close it when you wish instead.
Click here to visit our shepherd hut glamping page for glamping prices and facilities.
Text copyright Dorset Country Holidays and Events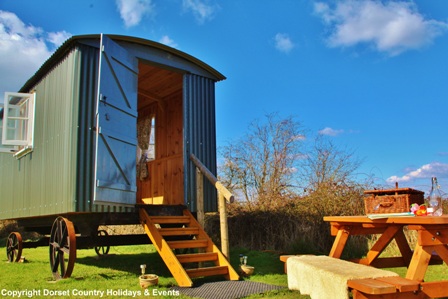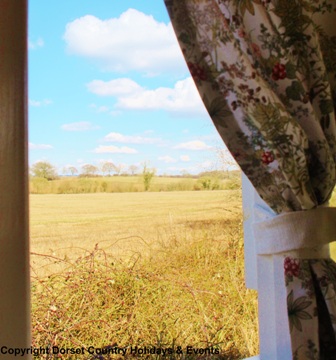 Copyright Dorset Country Holidays and Events Glamping