Last Minute Glamping Availability
Our availability is usually limited for last minute glamping breaks however as we are seeing an increasing number of short notice glamping enquiries, as a family business we understand that guests will occasionally wish to go glamping this weekend if they have the opportunity at late notice. Below is a brief summary of each of our accommodation types with links to their respective pages and at the foot of the page is a reservation request form that you can complete and then call us to process your deposit for your last minute glamping getaway here in Dorset.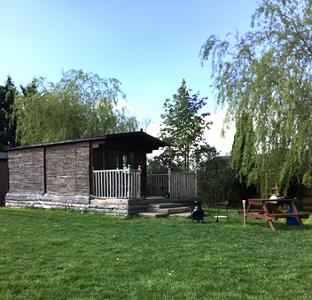 Our Country Kabin comes complete with:
Double bed
Two double sofa beds
Electric sockets & lights
Private electric cooler
TV/DVD
Nespresso coffeemaker
Firepit
Picnic bench
Two burner gas stove with grill
Barbecue
Hamper including cutlery & crockery
Our Country Kabin is a spacious, two room glamping lodge-style accommodation which has a separate lounge room to make a cosy cabin with two private rooms separated by a "secret" faux-bookcase door for families and couples, situated in the heart of rural Dorset.


Our Country Kabin is under £25pppn based on 4 sharing for 2 nights or more.


Our Stargazer Yurts are a marriage of the original Mongolian yurt design, British manufacturing and glamping luxury. Our Yurts are furnished to incorporate a full double bed with mattress, single sofa beds, electric lights, sockets, gas stove, chiminea for burning wood or toasting marshmallows & even TV/DVD combo units!

Our Yurts are a great place for your family glamping holiday or a couple's glamping retreat. With the see-through roof light and round porthole windows the sun's rays illuminate the interior of the yurt walls making our yurts bright and airy, whilst the Turkish-style rugs and travelling trunk mean you would be forgiven for thinking you were in a traditional tale of lavish Bedouin opulence.

With a double bed and two single sofa beds our Stargazer Yurts are akin to a suite for a couple or have plenty of space for a family glamping holiday.
Based on 4 people sharing for 2 nights or more a Yurt glamping break works out at just £24.38 per person per night
The most glamorous of our accommodations, the glamping GeoDome, is a unique experience: enter through a giant zip-up doorway into a spacious and airy space that combines modern design with all the fun of sleeping under canvas. Our Dome comes complete with:
Double bed
2 single futon sofabeds
Clothes storage
Electric sockets & lighting
Electric coolbox
Extra cool box
TV/DVD
Nespresso machine
Breakfast basket and bottled water on arrival
Our Bell tents provide true glamping, with the glamour of the exotic or luxurious mixed with the fun of sleeping under canvas. Glamping Bell tents are set-up ready for you when you arrive and furnished ready for use, so you can just turn up and relax. Our Bell tents come with:
A double bed
2 single futon sofa beds

Trunk for clothes storage



Electric lighting & sockets
Electric cool box
Hamper with cutlery, crockery & drinking glasses
Gas stove with hob, grill, saucepan & whistle kettle

Barbecue

Picnic bench
Firepit
Bottled water & cereal basket on arrival

Based on 4 people sharing for two nights or longer, a Bell tent glamping holiday is just £19.38pppn.
Last Minute Glamping Booking Request