Gay Friendly Glamping Holidays
We are firm believers that glamping holidays is an inclusive past time for everyone.
Same gender guests receive the warm friendly service and traditional countryside hospitality we are known for. To us glamping holidays are about having a break with your loved ones and maybe making some new friends too! We are proud of our track record of no less then four proposals being made by our lake and who can blame them, its such a lovely spot when the peach sun sets behind it that we have even put benches by the old oak tree so guests can take a drink overs and watch the sunset.
Choose from a diverse range of glamping accommodation
Glamping Holidays to suit all budgets
Glamping can be as luxurious or cost effective as you like. We pride ourselves on providing cost effective glamping, this is why we price per accommodation; that way if guests need to keep cost to a minimum they can invite friends to share accommodation with two couples sharing our glamping holiday accommodation can be as little as £16.66 per person per night for a two night glamping holiday.
Or if you wish to push the boat out, maybe for an anniversary a birthday or just because you want to spoil yourselves you can order everything from towelling robes and your choice of newspaper to be delivered to your glamping accommodation.
Easy to reach by road or train
Our glamping site on the holiday park in Dorset is easy to reach on the Exeter St David line from Waterloo, alight at Gillingham (Dorset) and is just of the A30 2 miles west of shaftesbury. Our friends at Woodland Escape Glamping Holidays are easily accessible from on the Taunton line from London Paddington (alight at Castle Cary) and just of the A303 at Sparkford.
Glamping holiday accommodation can include home comforts such as memory foam mattresses, TV/DVD and Nesspresso coffee machines.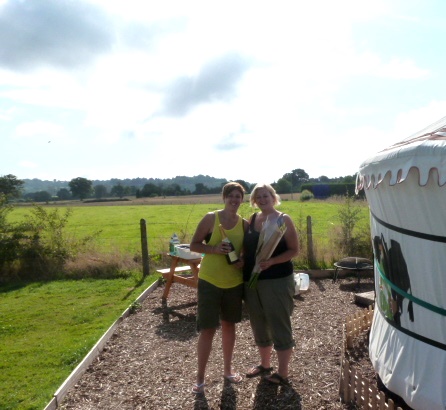 Plenty to do on and off the holiday park
We can provide garden games for use in our Lakefield if you wish to remain on the holiday park, arrange clay shooting off site (just saywhen booking.) If you're done roasting marshmallows over the fire we have a vast array of DVDs guests can borrow free of charge and the local take-aways will even deliver to the holiday park if you really want a night in!
We welcome canine guests. Each dog receives a dog bowl for use during their stay as well as a dog toy and treat to keep.
Want more seclusion & privacy?
Fancy a little more privacy and seclusion? Speak to our friends at Woodland Escape glamping holidays who provide off-grid glamping holidays set in a wood in rural Somerset.